The 32nd AOSA Fun Race & Trivia Contest is Normally held in Mid August - This annual event is for any type or size of sailboat with crew of any capability. There are many skippers who race solo, just to make things interesting, and others who are looking for crew. Above all, the race is focused on fun which is guaranteed if Alley Kat Brewing sponsors the event. Some years there are other sponsors. If you don't compete in another race then you should at least enter this one as it's open to all sailors. CYA membership is not required. There is very little of that start line jostling for position that keeps so many people away from formal racing. In fact it's not really a race but more of a fun cruise with written instructions similar to a car rally. Water fights are not discouraged and many crews exhibit real ingenuity. "A real hoot," as Jim would say.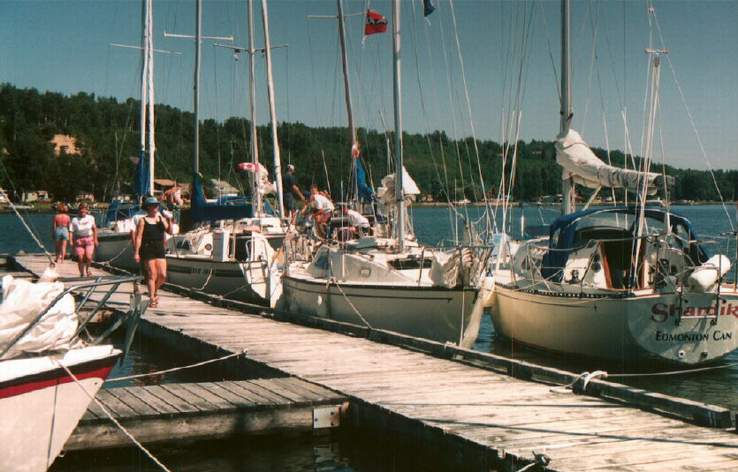 RACE FORMAT - The race is normally scheduled for the Saturday before the August Civic Holiday but may change. The skipper's meeting is held at EYC at about 12:00 with the race starting at 13:00ish. The course may change to suit current weather conditions, but in general it starts just off the EYC dock, turns at a class marker, then goes to the old Poole Sail Club, back to SBYC and finishes at the EYC dock. Jim Spalding, who is THE trivia nut on the lake, makes up a written trivia contest that you complete out on the water. The race instructions are imbedded in the questionnaire, so it good to have a crew member who can read and write! PS: Bring a pen and your reading glasses! (It pays to stay abreast of lake events during the year, know some local history, know something about sailboats, plus some automotive and aircraft history, amongst other things). To date there are two cruiser classes and a dinghy class. If enough unique boats show up, well a third class can be created! White sails only.
EYC DOCK - The EYC dock as shown above changed in 2003 to two parallel docks. This is such a good photo that I like to keep it. Interestingly enough two parallel docks was the original configuration to deal with strong Easterly winds. Unfortunately it leaves little space for transient boats. So if you are competing in the Fun Race and arrive early, it is requested that you hang a couple of courtesy fenders on the free side of your hull and open your lifeline gate to indicate that you will permit another boat to raft up next to you and walk across your hull. The later arrivals will appreciate this.
BBQ - The race culminates in the evening with a steak BBQ at 6ish. There's a $15.00 per person entry fee to pay for the trimmings: potatoes, salad and beer. Children under 12 are $6.00. Prizes are awarded after the barbecue. The party goes well into the evening with many boats staying overnight on the dock. If the weather turns foul for staying on the dock, anchor in Sunshine Bay.
DONATIONS - For information or donations of prizes please contact Organizer at (780) xxx-xxxx (hm) or hail Vessel Name on VHF Chan 16 or alternate organizer at (780) xxxx-xxxx.
REGISTRATION FORM - Print and complete the registration form at home, then submit it at EYC on your arrival. It helps to avoid the congestion.
Click here for photos of the 2004, 2005, 2008 (last year this event was run) Fun races. top