2004 Alberta Cup from the Committee Boat's Perspective, SV Rhumbo.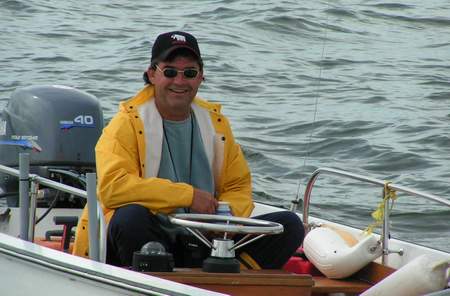 The 2004 Alberta Cup and Fall Series was held at EYC this year. This regatta is usually held on the Labour Day long weekend but was moved ahead one week so some of the sailors could compete in the Alberta Provincial Championships at the Wabamun Sailing Club. While the weather felt more like September the regatta was very successful in many ways. Many thanks go to the following volunteers: Jim Spalding, Jaye Lee, Keith Driver and Bob Schimmel on the committee boat with Brian Shaw on the EYC chase boat. Thanks to the EYC club members for the use of their excellent facilities. There are lots of jobs required to make a regatta successful; volunteers, accurate time keeping, impartial judging, trophies, photography, results tabulation and all sorts of other little things. If they all click the regatta runs like an orchestrated event, with great satisfaction.
DAY 1 (Alta Cup) - Saturday, Aug 28

DAY 2 (Alta Cup & Fall Series) - Sunday, Aug 29

| | |
| --- | --- |
| | Registration - 08:00 to 09:30 |
| | Registration Fee - $30.00 |
| | Mooring at EYC - No charge if racing |
| | Skippers Meeting - 09:30 |
| | First Race - 10:30 |
| | Social Activities - Greek Dinner 18:00, $15.00 ea |

| | |
| --- | --- |
| | Registration - 08:00 to 09:30 |
| | Registration Fee - $30.00 (for Fall Series) |
| | Skippers Meeting - 09:30 (for Fall Series) |
| | First Race - 11:30 |
| | Trophy presentation, Alta Cup - late afternoon |
ALBERTA CUP - The morning of day one of the Alberta Cup did not feel inviting. It felt like one of those days when you should keep your feet firmly planted on the floor of the restaurant, drinking coffee. However, as the sun burned off the humidity, the mood improved and things got underway. The course conditions turned out to be excellent and the weather man cooperated with NW winds blowing at 15 Knots, gusting to 30 later in the afternoon. They also predicted thunderstorms late in the afternoon which threatened to shorten the day. As a result we chose to run as many races on the first day as we could. Several different courses were chosen to keep things interesting; a quick short course for the first run to warm everybody up, then a longer one to take us to lunch. After a quick lunch break on the committee boat we set up a medium race to get things going again. A squall threatened to end the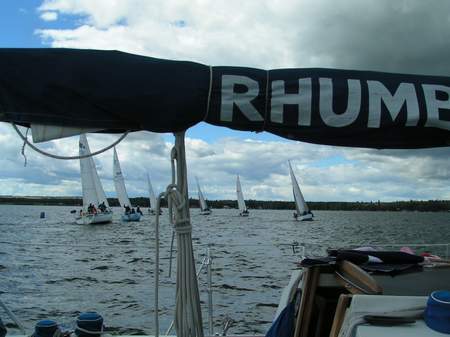 day early but fortunately blew itself out in time for another medium length race to finish day one. Then it was off to the club house for another of those Greek dinners. What a perfect way to end the day.
On day two the winds were quite slack which caused a one hour delay for the first race. All sails were slack during lunch and the lake surface had that oily look. It didn't look good for the last race of the regatta. So to allow for the slower winds the course was modified and the finish line moved after the start. The wind gods must have looked favourably on us because after the race got under way the winds filled in again. This created an exciting spinnaker run for the three top boats resulting in a photo finish between Geronimo and Gonzo. Sure glad I had the video running to decide the outcome of this race.
I'm not sure if many of you are aware of the two close incidents that happened next to the committee boat. Julius, as usual, was trying optimize his position and make good his heading as he crossed the start line. This involved leaving a gap between him and the committee boat, then turning immediately to starboard after the committee boat to head for the first mark. Unfortunately for Paul and Duncan this resulted in being squeezed alongside the committee boat. In both cases Julius gave way a bit to save a bunch of gel coat, especially on the committee boat. The best comment during this regatta came from Keith Driver as Duncan was trying to squeeze through, "good thing they're the same colour." Paul made another good comment, "there is no respect for age in this family." One thing is for sure, Julius finally got the competition he was looking for.
There are lots of things I like about this regatta, but the one that stands out among the rest is the tot of rum to toast all the competitors with. Classy style to finish a great event with.
COMPETITORS, Skipper & Crew.
Geronimo
Gonzo
Mortified
Current Ratio
Resacca
Marathon
Julius Nemeth
Tom Shearer
Denes Nemeth
Robert Woods
Jim Barclay
Duncan Cook
Mark ?
Paul Kantor
Doug Murray
Bill Hunka
Keith Matwichuk
Dan Smith
Linda Barrett
Don Rowe
Larry Loven
Terry Lind
David Ball
Rob Martin
Andy Bebris
Roger Ball
Brian Jordan
Boat Name

CLUB
Type
Spinnaker
1
2
3
4
5
6
Total
Pos'n
Geronimo
SBYC
J24
yes
1
2
1
1
(4)
1
6
1
Gonzo
SLSC
Hot Foot 20
yes
2
1
2
2
(2)
2
9
2
Mortified
EYC
J24
yes
3
3
3
3
(3)
3
15
3
Current Ratio
EYC
SJ 24
yes
(6)
4
4
4
1
4
17
4
Ressaca
EYC
Capri 22
yes
4
(6)
5
5
5
5
25
5
Marathon
EYC
Kelt 7.6
yes
5
5
6
(6)
6
6
27
6
Denotes thrown out race.
()
Denotes result of a protest.
*
Denotes a tie settled by the current rule book.
**
And the 2004 Alberta Cup champions are: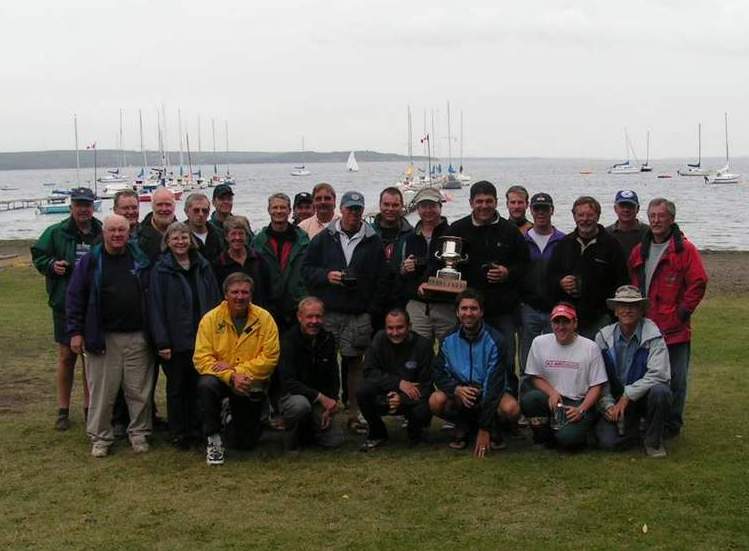 If any of the crew would like a copy of the original pictures, please email me. Bob Schimmel.