The race was shortened this year due to the lack of wind and the fleet was turned around at the Coal Point buoy. The thought being, "Better to kibitz on shore with an Alley-Cat beer in hand than sweat it out on a long, slow, course on the water." Several boats actually rounded the marker and "cleaned" the bottom of their keel on the sand. Way to go guys. All tolled there were 21 boats participating with many new crews this year.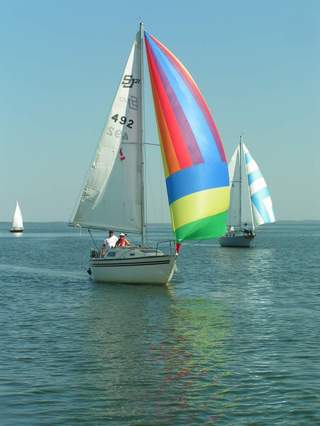 Love that loon on Keith Matwichuk's spinnaker. Very fitting for Wabamun Lake.
Ray Kowerchuk is new to Wabamun this year. Last year he sailed on Lake Diefenbaker.
Phil and I trimming the sails for maximum shade. Hey we had fun.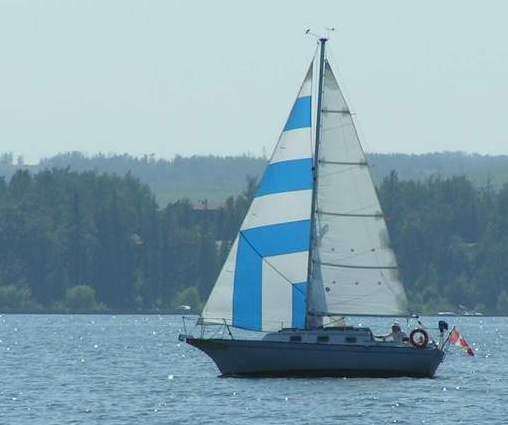 Another new boat for the Fun Race this year. Deadly combination these two Bobs. One with a beard and the other without one!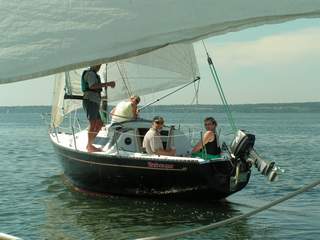 Another new boat for the Fun Race. Pesky bunch that just wouldn't get out of our way. It didn't matter how many times we called for room at the mark!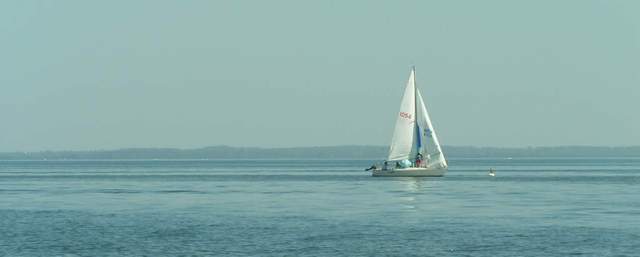 Remember the rule that states NOT to use a cardinal buoy for a race marker? Well a couple of crews decided to challenge that rule. One of them comes from unforgiving waters with a very hard bottom and so he should know better. The other one is somewhat instrumental in replacing this buoy.
I don't want to mention any names but, "The Off is on again," was announced many times on the VHF. You have to give this crew credit though, they careened her and sailed off the sand in pretty quick time. I can't remember the name of the other skipper who tried this trick earlier. Someone told me he owns half of a blue SJ24. The sneaky fellow also sailed her off the sand, before I had my camera ready.